Free standing inserts, or FSIs for short, are those colorful brochures you find in newspapers that offer everything from sales on electronics to grocery store specials to coupons for gardening products and printing services. Did you know seven in ten adults say they read or look at these inserts? Download this guide to learn everything you need to know about this cost-effective, flexible, highly measurable advertising channel.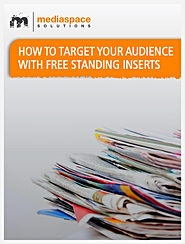 This guide will enable you to:
Understand the basics of FSIs

Minimize the cost of wasted circulation

Utilize the strategic targeting and mapping available with FSIs

Avoid advertising to irrelevant ZIP codes

Reach the 44% of adults who take an FSI with them when shopping
Fill out the form on this page to get your FREE guide!